Airline News
September 17, 2018
The first Airbus A380 for Japan's All Nippon Airways completed its first flight on Monday.
---
September 18, 2018
Cathay Pacific will donate the first ever Boeing 777 to an air museum in the US after its retirement from commercial service.
---
September 13, 2018
Nigerian airline Air Peace and Boeing signed an order for ten 737 MAX 8s in a ceremony in Lagos.
---
September 11, 2018
Virgin Australia has completed a trial of biofuel on 195 flights from the airline's Brisbane Airport base.
---
September 10, 2018
Aeroflot has ordered another 100 Superjet 100 regional jets, the largest ever order by the Russian airline.
September 10, 2018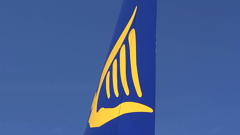 The union representing Ryanair's Germany-based pilots has called a 24-hour strike this week which will affect all of the airline's German flights.
---
September 10, 2018
Biman Bangladesh Airlines has ordered three Bombardier Q400 turboprops in a deal worth USD$106 million at list prices.
---
September 7, 2018
Unions in five European countries representing Ryanair cabin crew have threatened to strike later this month to protest the "serious hardship" the airline is causing its staff.
---
September 6, 2018
British Airways has suffered another IT problem, with hundreds of thousands of customer details stolen from its website.
---
September 6, 2018
The US National Transportation Safety Board is investigating an engine failure on a Delta Air Lines flight shortly after take off from Atlanta.
---
September 5, 2018
Norwegian Air's rapid expansion continues with the launch of ticket sales for its new domestic flights in Argentina.
---
September 4, 2018
Belgian carrier VLM's majority shareholder SHS Antwerp Aviation has decided to liquidate the airline with immediate effect.
---
September 4, 2018
Finnair has appointed Nordea bank's head of personal banking Topi Manner as its new chief executive, joining the airline on January 1, 2019.
---
September 4, 2018
Kuwait's Wataniya Airways has cancelled flights saying "unexpected circumstances" have meant it only has one operational aircraft.
---
September 4, 2018
The VNV union representing KLM pilots in the Netherlands said it has reached an in-principle deal with the airline on a collective agreement for cockpit crew.