Airline News
November 8, 2018
Ryanair and the Ver.di union representing the airline's Germany-based cabin crew have signed a framework agreement on pay and conditions.
---
November 6, 2018
Rolls-Royce has signed a USD$1.1 billion contract with China Eastern Airlines for the supply and maintenance of engines for the carrier's Airbus A350-900 fleet.
---
November 5, 2018
Icelandair has agreed to buy WOW air in an all-share deal that would see WOW shareholders own 5.4 percent of Icelandair Group's stock.
---
November 5, 2018
United Airlines has become the first North American carrier to receive a Boeing 787-10, the largest member of the Dreamliner family.
---
November 5, 2018
American Airlines has signed a firm order for 15 Embraer E175s in a deal valued at USD$705 million, based on list prices.
November 2, 2018
A Japan Airlines pilot has admitted to being almost ten times the legal alcohol limit at London's Heathrow Airport last month just before he was due to fly a Boeing 777-300 to Tokyo.
---
November 2, 2018
Norwegian Air Shuttle has agreed to sell five Airbus A320neo aircraft to pay down some of its debt.
---
November 2, 2018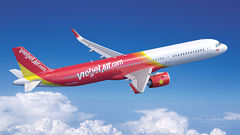 Vietnamese airline VietJet has firmed up an agreement to buy 50 Airbus A321neos in a deal worth just under USD$6.5 billion at list prices.
---
November 1, 2018
Indonesian navy divers have recovered one of the two data recorders from Lion Air JT610, which crashed off Java on Monday.
---
November 1, 2018
A Chilean competition court has given the nod to the proposed business agreement between LATAM Airlines Group, American Airlines, and Iberia and British Airways parent IAG.
---
October 30, 2018
Indonesia continued to search for the wreckage of Lion Air flight JT610 on Tuesday, with helicopters and several ships joining the search and recovery mission.
---
October 29, 2018
A Lion Air Boeing 737 MAX 8 with 189 people on board has crashed a few minutes after takeoff from Indonesia's Jakarta Airport.
---
October 29, 2018
Delta Air Lines has taken delivery of its first Airbus A220 at a ceremony in Mirabel, Québec.
---
October 25, 2018
British Airways says it has identified another 185,000 customers who may have had their credit card information stolen in a data breach earlier this year.
---
October 25, 2018
Cathay Pacific Airways has suffered a serious data breach with passenger information of up to 9.4 million people accessed.