Tourism News
November 5, 2018
Icelandair has agreed to buy WOW air in an all-share deal that would see WOW shareholders own 5.4 percent of Icelandair Group's stock.
---
October 31, 2018
The industrial dispute between baggage handlers and airport handling company Aviapartner at Brussels Airport has been resolved, with operations returning to normal during Wednesday.
---
October 30, 2018
Delays at passport control at UK airports should ease from next summer as five more countries become eligible to use ePassport gates.
---
October 30, 2018
Turkey's President Recep Tayyip Erdoğan has opened Istanbul's new airport, expected to become the world's busiest.
---
October 29, 2018
A strike by baggage handlers at Brussels Airport is causing some flight cancellations and is likely to continue into Tuesday.
October 25, 2018
Cathay Pacific Airways has suffered a serious data breach with passenger information of up to 9.4 million people accessed.
---
October 25, 2018
British Airways says it has identified another 185,000 customers who may have had their credit card information stolen in a data breach earlier this year.
---
October 23, 2018
Brazilian airline GOL is returning to the US market with flights to Miami and Orlando launching in November.
---
October 22, 2018
Delta Air Lines has announced plans to launch a new route from its Minneapolis-St. Paul hub to Shanghai, subject to US government approval.
---
October 18, 2018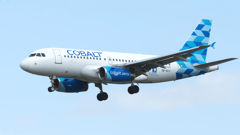 Cypriot airline Cobalt went into administration on Wednesday evening and cancelled all flights after it failed to secure emergency funding.