Tourism News
May 24, 2018
South African aviation regulator SACAA has suspended all SA Express flights over 'serious safety risks'.
---
May 24, 2018
Delta Air Lines has announced a return to India, with direct US/Mumbai flights starting next year, after a recent clarification of Open Skies agreements.
---
May 24, 2018
Cathay Pacific is updating its Asia Miles loyalty scheme, with the airline saying more people will benefit from higher mileage accrual and a wider choice of redemption flights.
---
May 22, 2018
Lufthansa Group has announced the introduction of Economy Light fares on routes between Europe and North America, launching in time for the summer travel season.
---
May 23, 2018
Dallas Fort Worth Airport will start a major repair to one of its runways from May 24 in a USD$135 million project that is expected to last until December.
May 18, 2018
Singapore Airlines will merge with its SilkAir unit in 2020 after a major cabin makeover gets underway at the regional carrier.
---
May 14, 2018
Japan Airlines will launch a new long-haul low cost carrier in 2020, as it diversifies from the full service model of its parent brand.
---
May 11, 2018
Pilot unions at Brussels Airlines have called two one-day strikes next week which will affect over 550 flights and 63,000 passengers, the airline said.
---
May 10, 2018
WestJet pilots have voted overwhelmingly to approve a strike, but the ALPA union stressed its goal is an agreement with the airline not industrial action.
---
May 7, 2018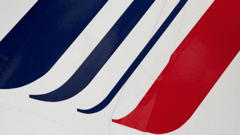 Air France expects to operate 80 percent of its Tuesday flights as the second day of a union stoppage this week ramps up pressure and the airline's strike-related costs, causing the resignation of its chief executive.