Tourism News
October 19, 2017
JetBlue announced it will end ticket sales through a number of online travel agencies as it seeks to reduce costs.
---
October 18, 2017
Travel group Thomas Cook will launch a new airline in Spain, with its first flight expected early next year.
---
October 9, 2017
Air Berlin will stop flying by October 28 at the latest as the administrators for the insolvent airline continue discussions with prospective buyers.
---
October 9, 2017
The ICAO has taken Thailand off its list of countries red flagged for concerns the UN body had over its aviation safety.
---
October 9, 2017
Greece's Aegean Airlines will add 18 new routes next year, including 11 from Athens as it seeks to strengthen its hub at the capital's airport.
October 5, 2017
Pilots at Thomas Cook's UK airline have called off three planned strikes as they enter binding arbitration with the company over pay.
---
October 3, 2017
The Civil Aviation Authority of Colombia has approved Avianca to bring in pilots from other countries on a temporary basis to fly aircraft grounded by striking staff pilots.
---
October 2, 2017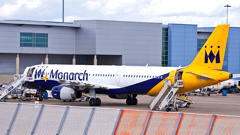 UK leisure carrier Monarch Airlines entered administration on Monday, causing the cancellation of all flights and future holidays, with around 110,000 of its customers currently abroad.
---
October 2, 2017
Emirates and low cost carrier flydubai announced a new partnership with the launch of a codeshare agreement, initially to 29 flydubai destinations.
---
September 27, 2017
Ryanair has cancelled another 18,000 flights, affecting 400,000 passengers this winter to "eliminate all risk of further flight cancellations."