Tourism News
April 20, 2017
Canada's WestJet said it will launch an 'ultra-low-cost carrier' later this year, subject to regulatory approvals.
---
April 20, 2017
Low cost carrier Norwegian will launch a new route from London's Gatwick Airport to Singapore in September, as it ramps up competition on flights from the UK.
---
April 19, 2017
Emirates will reduce flight frequencies to several US destinations as demand drops following travel restrictions introduced by the Trump government.
---
April 18, 2017
Nigeria's Abuja Airport reopened on Tuesday as six weeks of runway repairs were completed and operations resumed with an Ethiopian Airlines flight.
---
April 13, 2017
Air France-KLM and Singapore Airlines have signed a memorandum of understanding to codeshare on each others flights from April 27.
April 11, 2017
IAG's new low cost carrier LEVEL has taken over 100,000 bookings since its March 17 launch, the airline said.
---
April 7, 2017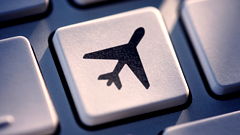 A European Commission report into online travel booking says two-thirds of the websites screened displayed misleading prices.
---
April 7, 2017
Flight delays continued on Friday at Atlanta Airport in the aftermath of Wednesday's severe weather event.
---
April 6, 2017
Singapore Airlines and Ethiopian Airlines will extend their codesharing agreement from June as Ethiopian introduces direct flights to Singapore.
---
April 5, 2017
Norwegian Air will increase the pressure on legacy carriers with the introduction of two new routes from the US to London in September.