Cargo/Freight News
September 9, 2016
World airport passenger traffic increased by 6.4 percent in 2015, the strongest growth rate since 2010, ACI said in its annual report.
---
September 6, 2016
Air freight demand grew 5 percent in July, the fastest rate for 18 months, IATA said in its monthly update.
---
September 5, 2016
Passenger numbers at Dubai International Airport rose to a record high in July, with strong growth from Eastern Europe and Asia.
---
August 16, 2016
Brussels Airport handled 2.4 million passengers in July, a slight fall from July, 2015's record month.
---
August 9, 2016
Lufthansa Cargo has added to its stake in express delivery firm time:matters to take control of the company.
August 5, 2016
Italian airport Bergamo Orio al Serio has reopened after a DHL cargo plane overshot the runway and landed on a road.
---
August 3, 2016
IATA said demand for air freight rose 4.3 percent in June, the fastest rate of growth for over a year.
---
July 12, 2016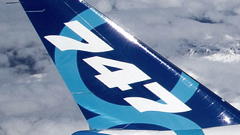 Boeing and Volga-Dnepr have agreed terms for the acquisition of 20 747-8 freighters, which includes four aircraft that have already been delivered.
---
July 6, 2016
Demand for global air freight rose only 0.9 percent in May on broad weakness in world trade volumes, IATA said.
---
July 6, 2016
Following a sharp fall in freight prices air cargo companies are set to trim their fleets and jobs further to battle overcapacity while looking for new partnerships and products to carry.