Cargo/Freight News
December 7, 2016
Demand for global air freight rose 8.2 percent in October compared with 2015, the fastest growth in 18 months IATA said in its monthly report.
---
December 5, 2016
DHL Global Forwarding, Deutsche Post's freight subsidiary, and Mubadala Development Company have agreed a five-year partnership.
---
November 22, 2016
Pilots at cargo airline ABX Air, which handles freight for Amazon and DHL, went on strike on Tuesday.
---
November 3, 2016
Demand for global air freight was up 6.1 percent in September, IATA reported in its monthly statement.
---
October 29, 2016
A FedEx DC10 cargo plane caught fire at Fort Lauderdale-Hollywood Airport on Friday after the landing gear collapsed.
October 18, 2016
FedEx Express is expanding its distribution hub at Paris Charles de Gaulle Airport, in a EUR€200 million initial investment.
---
October 12, 2016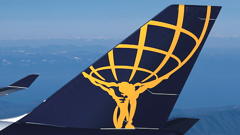 Boeing will convert nine 767 passenger aircraft to freighters for Atlas Air Worldwide.
---
October 11, 2016
London Heathrow Airport's September passenger numbers were up 0.4 percent to a record high of 6.8 million.
---
September 9, 2016
World airport passenger traffic increased by 6.4 percent in 2015, the strongest growth rate since 2010, ACI said in its annual report.
---
September 5, 2016
Passenger numbers at Dubai International Airport rose to a record high in July, with strong growth from Eastern Europe and Asia.