Airport News
January 9, 2017
Turkish Airlines cancelled flights at Istanbul's Ataturk Airport on Monday as heavy snow and poor visibility continued in the region.
---
January 6, 2017
A consortium led by Carlos Slim's Carso construction group has won a contract to build the main terminal at Mexico City's new airport.
---
January 6, 2017
Five people are dead and eight wounded at Florida's Fort Lauderdale Airport as a gunman opened fire in a baggage claim area.
---
January 4, 2017
New York Governor Andrew Cuomo has announced a USD$10 billion plan to upgrade New York's JFK Airport, which includes linking the terminals and redesigning road access and parking.
---
January 4, 2017
Passenger traffic at Dubai International Airport rose 9.4 percent in November to 6.58 million people.
January 3, 2017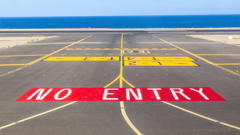 Nigeria has announced a change to its plans to close the capital Abuja's Nnamdi Azikiwe Airport.
---
December 20, 2016
Nigeria has announced plans to close Abuja's Nnamdi Azikiwe Airport for six weeks in February and March for extensive runway repairs.
---
December 20, 2016
UK regional airline Flybe will add London Heathrow to its route network from March 2017, flying to Aberdeen and Edinburgh.
---
December 13, 2016
The row between Lufthansa and Frankfurt Airport owner Fraport looks set to escalate as the German airline threatens to reduce the number of flights it operates at the airport.
---
December 12, 2016
Australia has given the go-ahead for construction of a second airport in Sydney, as the existing Kingsford Smith airport nears capacity.