Aviation News
July 28, 2016
Boeing could end production of the iconic 747, as it faces falling orders and pricing pressure, according to a regulatory filing.
---
July 27, 2016
Boeing has reported a second quarter loss, stemming from reclassification of 787 costs and unexpected expenses for the 747.
---
July 27, 2016
Airbus took a EUR€1.4 billion (USD$1.5 billion) hit for problems with the A400M transporter and the A350, clouding better than expected quarterly profits.
---
July 27, 2016
Malaysia Airlines has ordered 25 Boeing 737 MAX 8s, and purchase rights for another 25, in a deal worth up to USD$5.5 billion at list prices.
---
July 27, 2016
China Southern Airlines subsidiary, Xiamen Airlines, has signed an agreement to buy six Boeing 787-9s worth USD$1.4 billion at list prices.
July 25, 2016
The US Environmental Protection Agency has paved the way for new curbs on emissions from passenger jets by ruling that greenhouse gases from aircraft endanger public health.
---
July 21, 2016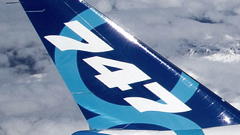 Boeing's second-quarter results will include more than USD$2 billion in charges related to the 747, 787 and KC-46 tanker aircraft, the company said.
---
July 21, 2016
Dassault Aviation posted lower first-half operating income and revenues, driven in part by pricing pressure on its business jet division.
---
July 21, 2016
China plans to invest up to CNY50 billion yuan (USD$7.49 billion) to develop its air traffic management system, the official news agency Xinhua reported, citing an official from the aviation regulator.
---
July 19, 2016
Boeing expects Indian carriers to order 1,850 new aircraft worth USD$265 billion over the next 20 years, up from an earlier forecast, mainly due to new aviation rules that will boost demand.