Aviation News
August 21, 2017
Cathay Pacific has signed a Memorandum of Understanding to buy 32 Airbus A321neo aircraft in a deal worth USD$4.06 billion at list prices.
---
August 21, 2017
Dubai Aerospace Enterprise has completed the acquisition of Dublin-based aircraft lessor AWAS in a deal that will more than triple the size of the company's fleet.
---
August 8, 2017
US aircraft lessor Air Lease and Boeing have agreed terms for a firm order for 14 aircraft including 12 737 MAXs previously announced at the Paris Air Show.
---
August 3, 2017
Aircraft lessor BOC Aviation has ordered 10 Boeing 737 MAX 10s in a deal worth USD$1.25 billion at current list prices.
---
July 31, 2017
Boeing has forecast demand for 2,100 new commercial aircraft in India over the next 20 years, worth USD$290 billion in sales.
July 27, 2017
Airbus made a EUR€1.5 billion net profit in the first half, a drop of 15 percent from the previous year period.
---
July 26, 2017
Boeing made a net profit of USD$1.76 billion in the second quarter, from a $234 million loss in the same period last year.
---
July 24, 2017
European airline group IAG has ordered three additional Airbus A330s for its new low cost unit LEVEL.
---
July 19, 2017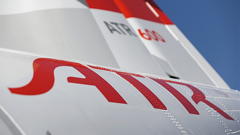 Taiwan's Mandarin Airlines has ordered six ATR 72-600s in a deal worth USD$160 million at list prices.
---
July 18, 2017
Aeroflot has a signed a firm contract for 20 Sukhoi Superjet 100 aircraft, adding to a previous order.