Airline News
April 20, 2017
Canada's WestJet said it will launch an 'ultra-low-cost carrier' later this year, subject to regulatory approvals.
---
April 20, 2017
Airbus delivered the first A321neo to Virgin America on Thursday at a handover ceremony in Hamburg.
---
April 20, 2017
Hawaiian Airlines released its first quarter financial results on Thursday showing net income down 28 percent as fuel and staff costs increased.
---
April 20, 2017
Low cost carrier Norwegian will launch a new route from London's Gatwick Airport to Singapore in September, as it ramps up competition on flights from the UK.
---
April 19, 2017
Emirates will reduce flight frequencies to several US destinations as demand drops following travel restrictions introduced by the Trump government.
April 19, 2017
Lufthansa Cargo and United Airlines have signed a joint venture agreement to cooperate on cargo routes between Europe and the United States.
---
April 19, 2017
Greece's Aegean Airlines reported a rise in first quarter traffic as international flights saw a 17 percent rise in passenger numbers.
---
April 18, 2017
United Airlines reported net income for the first quarter of USD$96 million and said it needs to do a better job serving its customers.
---
April 18, 2017
Malaysia Airlines will be the first airline customer to get access to global flight tracking data from an enhanced system developed by SITAONAIR and Aireon.
---
April 14, 2017
Azerbaijan's Silk Way Airlines has ordered 10 Boeing 737 MAX 8s in a deal worth USD$1.1 billion at current list prices.
---
April 14, 2017
Alitalia and its unions have reached agreement in mediated talks that, if approved, should allow the airline's owners to invest more money in the struggling flag carrier.
---
April 14, 2017
Horizon Air and the union representing the airline's 620 pilots have reached a tentative agreement on their new contract.
---
April 13, 2017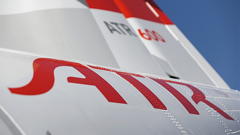 Iran Air and ATR have signed an agreement for the purchase of 20 ATR 72-600s in a deal worth USD$536 million at list prices.
---
April 13, 2017
Air France-KLM and Singapore Airlines have signed a memorandum of understanding to codeshare on each others flights from April 27.
---
April 13, 2017
WestJet released its traffic figures for March and the first quarter of 2017 on Thursday showing record passenger numbers in Q1.