Recently Added Stories
February 17, 2017
Air Canada released its 2016 full year results on Friday, showing net income of CAD$876 million (USD$669 million), up from 2015's CAD$308 million.
---
February 17, 2017
Juneyao Airlines has agreed an order for five Boeing 787-9 Dreamliners, valued at about USD$1.32 billion at list prices.
---
February 16, 2017
The number of foreign tourist arrivals in Indonesia for December reached 1.11 million, a rise of 12.85 percent.
---
February 16, 2017
Bombardier reported a smaller full year net loss of USD$981 million, down from the previous year's $5.34 billion.
---
February 16, 2017
Air France-KLM reported a big increase in full year net profit to EUR€792 million (USD$845 million), up from €118 million in 2015.
February 16, 2017
A walk out by ground staff at Berlin's Tegel and Schönefeld airports caused the cancellation of over 200 flights on Thursday.
---
February 15, 2017
Production workers at Boeing's South Carolina 787 assembly plant have voted against representation by the IAM union.
---
February 15, 2017
Ground staff at Berlin's Schönefeld and Tegel airports will go on strike on Thursday during the peak evening travel period.
---
February 15, 2017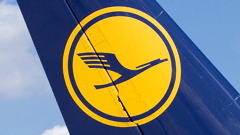 Lufthansa and pilot union Vereinigung Cockpit have agreed to accept the recommendation of a mediator to end a long-running dispute over pay.
---
February 14, 2017
Aero engine maker Rolls-Royce reported a net loss of GBP£4.03 billion (USD$5.02 billion) for 2016 as it suffered from a post Brexit vote currency fall and the settlement of bribery allegations.